Lower your costs for Code compliance and differentiate your brand with
Better Than Code
Stop using cookie-cutter prescriptive building packages as we head towards interim Building Code changes in 2020.
Home builders are facing a challenge: Government climate change policies and interim Building Code changes in 2020 are going to make it expensive to do business, while prescriptive building packages will make it difficult to differentiate your brand in the marketplace. Better Than Code is the solution.
Better Than Code is a home-building platform backed by 35 years of hands-on experience in energy-efficient home design and building. Using our white-label solution, builders and designers can customize their offerings, make informed choices, differentiate their brand from the pack, and enjoy the assurance of third-party validation – all while building homes the way they want to.
We'll help you make the right design choices and pre-test your designs for Code compliance. Get step-by-step support through the permit process, plan for future Building Code changes, and set yourself apart from your competitors.
Energy-efficient design meets leading-edge estimating tools.
We'll help you find the sweet spot – highest performance for the lowest cost. It's a true value proposition for you and your clients.
Benchmarking Energy Consumption
The SB-12 energy performance standard allows for prescriptive choices or customized computer modelling. Using the latter, when a home's estimated consumption is below the Code benchmark, you can not only reduce construction costs, but have the choice to build it the way you want – and still be assured of securing a permit.
Designs Assured to Meet Code Compliance
We'll model the performance of all your specs, providing a computer-simulated estimate of annual energy consumption of your design.
Customization allows you to pre-test designs before you apply for permits, knowing in advance they meet Code requirements, saving you both time and money. Using Better than Code, you'll maximize your choice without any guesswork.
"At Herity, we pride ourselves on building high-performance, quality homes. Better Than Code has shown us improvement on all levels from permits to inspecting, testing, and validating our builder brand."
Going green does not have to mean spending more green. Go beyond expensive Code packages and build your homes, your way. Our industry-leading tools and know-how can help you be Better Than Code, for less.
Our computer modelling offers a range of benefits:
Achieve Code compliance and build your brand: By analyzing energy consumption up front, you'll ensure your engineered design exceeds minimum approval requirements, while lowering construction costs and creating a unique signature to differentiate your brand.
Employ new technologies and products to deliver an integrated marketing approach: Energy modelling simulates all the options, allowing you a range of choices to offer customers. Learn how using different building systems will affect your construction sequencing and make informed decisions about building.
Show your customers the money: When we perform the shell calculations, you'll know the loads you'll need for heating and cooling, information that will inform how the house is designed and what HVAC equipment can be used. Don't differentiate yourself as a builder through the decor centre. Substantiate energy savings by presenting home buyers with verifiable return-on-investment figures — a true competitive advantage for your brand.
Navigate the permit process. From consulting with designers to submitting to municipal plans examiners, our turnkey solution will guide you every step of the way.
Plan for future Building Code changes.
Our consulting services include forecasting and analyzing interim and major Code changes, helping you achieve higher performance and an understanding of the costs required to make the transition. Because many municipalities have their own green performance standards, engaging with building departments and advocating for your brand are key components of successful projects. Our understanding of municipalities' specific requirements will prove invaluable and help you receive permit approvals in a timely manner.
Make the right design choices.
We'll help you with mechanical design, equipment selection and sizing, zoning and duct work layout. Whether it involves the integration of thermal envelope design with heating and cooling systems or choosing a forced air system (modulating furnaces or combination systems on high- or low-velocity air distribution systems), we can assist you in properly engineering systems to achieve your design goals. We'll even help you set up, test and calibrate these systems to ensure Code compliance, performance and home owner comfort.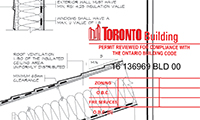 We help complete and submit your permits to meet or exceed Code performance, while liaising with designers and building officials to ensure timely permit approvals.
Builder support program: We perform onsite inspections and provide feedback to ensure your project specifications and scope remain aligned with your goals.
End-to-end testing. We support you at every step:
Onsite orientation with subtrades and building officials;
Walkthroughs with supervisors and trades at rough-in stages;
Pre-drywall and air barrier inspections to ensure low airtest results are achieved;
Airtightness testing using infrared diagnostics;
Air balancing of air distribution and ventilation systems;
Final inspections to verify your project complies with builder programs and your permit submissions.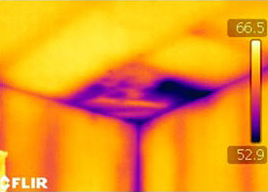 In a nutshell, you can count on us to bring your staff up to speed, work with Building Code officials on your behalf, confirm your construction process, and provide third-party verification that your home's performance will be up to snuff.
The Better Than Code energy rating label is validation that the energy performance of your home exceeds the Building Code. Just select the level of performance you want and how you want to build your homes to achieve this goal.
The Better Than Code formulas are simple:
Good design + intelligent product selection + energy modelling = successful building permits
Good planning + smart execution = satisfied home buyers